This web page is designed to display pictures and videos of miniature soldiers and battlefields. Historic models 1/72 scale painted as a hobby. Not for sale.
I have started painting miniature soldiers because of an unfortunate sports accident many years ago. In the past few years, this has turned to a passionate hobby, acting also as a stress relief from the demands of my business. Currently, on top of painting miniatures, I also make the scenery and set the realistic battlefield, according to sources of historic battles. I have a strong preference in scale 1/72, resin figures and ancient eras.
Hope you enjoy it…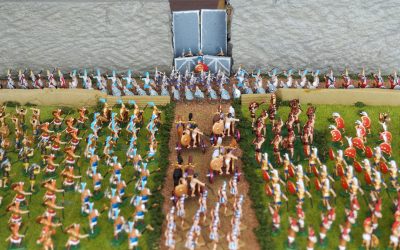 The War for TroyBronze Age Achaeans' wars  ◊  ca. 1260-1200 BC Modelling:  344 miniature-figures resin 1/72 scale. Story:     According to Homer's epic poem "Iliad", the allied forces of the Achaeans started a war against the Trojans and their allies, besieging the...
read more
Please send me your e-mail below. Thank you!
Call Me
(+357) 99 689 653
Email
info@miniatureschris.com